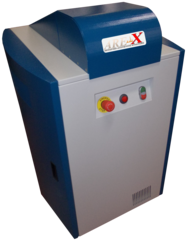 Download leaflet/baixar folheto      BROCHURE ARE X
Accurate  measurement of the retained austenite levels is important in the development and control of heat treatment process in steel industry.
X-Ray Diffraction (XRD) is considered the most accurate method available that can accurately determine retained austenite levels down to 0.5%.
The integrated intensities of the austenite (220) and (311), and the ferrite (200) and (211) diffraction peaks are measured on the AREX diffractometer. The use of multiple diffraction peaks minimizes the effects of preferred orientation and allows interference from carbides to be detected.
ARE X is a fixed angular range X-Ray Diffractometer equipped with the most modern technical features which grant accuracy, precision, safety and easiness of use, especially designed for quantitative determination of Retained Austenite.
ARE X is the unique instrument able to guarantee compliancy with the ASTM E 975 – 03.
Thanks to ARE X innovative concept, Retained Austenite volume percentage can be measured in few minutes, just placing the sample and pressing start button.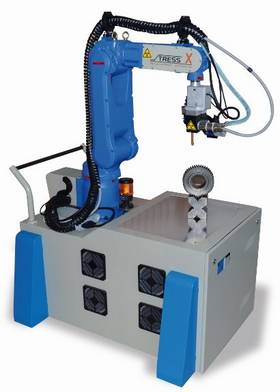 Download leaflet/baixar folheto  Brochure StressX 3000
Stress-X is a X-Ray Diffractometer dedicated to the Residual Stress Analysis, providing a non-destructuve test of the samples. The head of the diffratometer is mounted on an anthropomorphic 6 axis robot that allows to analyze samples of any dimensions and shapes.
Stress-X could be mounted either in a closed cabin, suitable for laboratory analysis or on a four wheel trolley for on site analysis.
Residual Stress could be induced by machining, grinding, rolling, deep drawing, welding, thermal hardening and shot peening; its quantification allows to prevent fatigue damage and to control material's durability and safety.
Stress-X provides a flexible solution to residual stress determination on samples of any dimensions by the original synergy between compact X ray diffractometer and 6-axis robot.
6-axis robots are available with positioning accuracy and repeatability as low as  20 μm and positioning range as high as 895 mm radius from robot center.
Measuring target is defined by a combination of a Video camera for X-Y pointing and a laser for Z positioning.
Laser accuracy can be less than 10 μm and measuring range can be as high as 300 mm from the goniometer center.
Thanks to the 6 degree of freedom the measuring positions and angular ranges are only limited by robot size.